Welcome to Schenna Chalet
A little corner of paradise with a splendid view of Merano
A retreat created to guarantee cherished moments of serenity. Two luxury apartments in an exclusive chalet: with a large lawn, it offers a panorama as far as the eye can see. Opening onto the valley floor of the city of Merano your gaze reaches the majestic peaks of the Ortler Alps and the Texel Group Nature Park. Here you have the freedom to spend a holiday as you like it. You have your own comfortable apartment and access to a swimming pool,with the advantages of the services of a four-star hotel. In addition, the attention to detail highlights the outstanding standards of design and functionality with style, creating unique environments. Spaces for your well-being.
For a sophisticated stay in an idyllic setting
Discover our apartments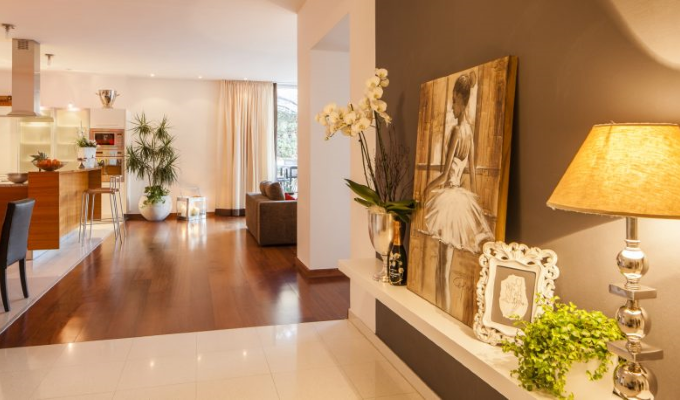 Chalet Garden 350m²
With direct access to the large 400 m² garden and the infinity pool, this spacious apartment, superbly furnished and equipped with a sauna and a whirlpool is the ideal solution for enjoying moments of tranquillity surrounded by nature.
Chalet Penthouse 310m²
Located on the second floor, this modern apartment with exclusive furnishings has a private wellness area. Its terraces of over 100 m² ensure moments of authentic relaxation above Merano.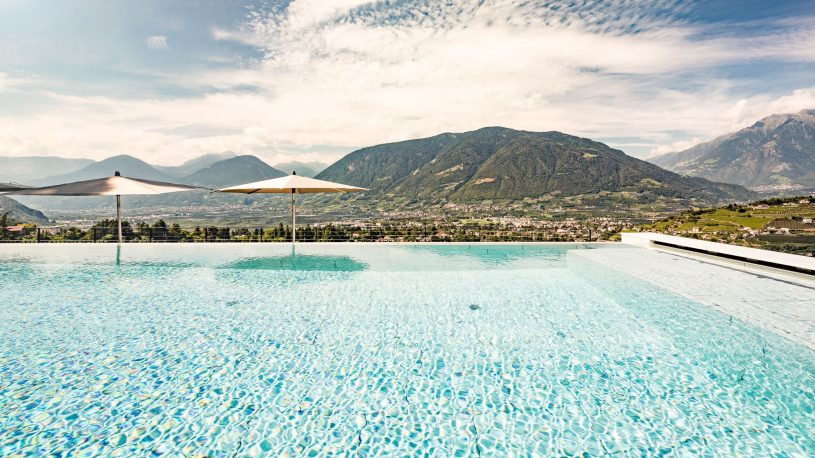 Heated Private Infinity pool
The heated infinity pool (10×4 m), as well as the separate pool for children invite you to dive and swim freely in the sun, admiring the splendid panoramic view. In addition, treat yourself to a well-deserved rest on the comfortable sun loungers in the garden and on the terrace. If you want to get out of the sun, regenerate in the shade of the redwoods.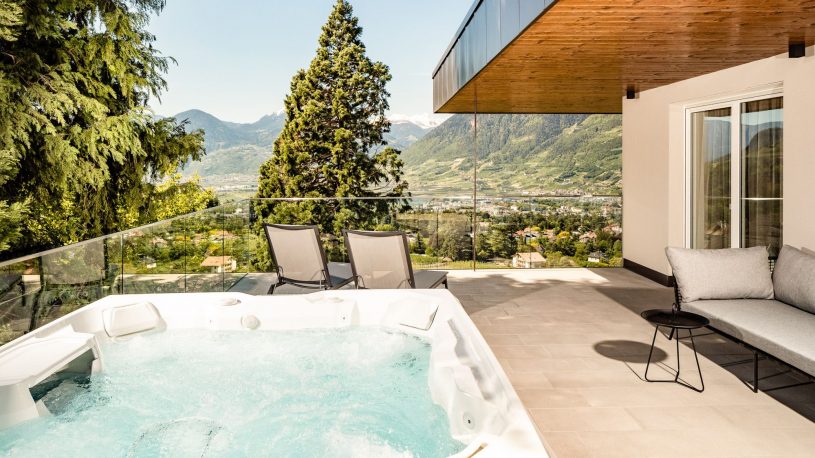 Private sauna and heated whirlpool
Your terrace becomes an authentic oasis of well-being: the hydro massage tub with hot water and the private sauna in the covered outdoor area are the perfect place to relax at the end of the day. Enjoy the enchantment of the brilliant shades of the sky at sunset.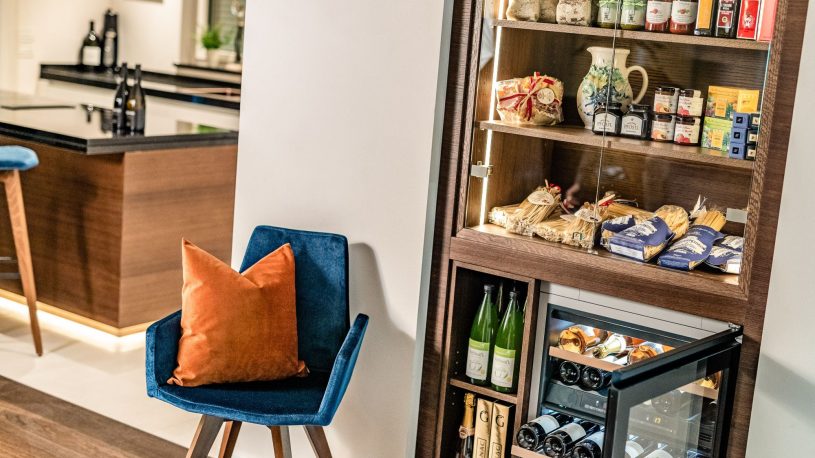 Wine cellar and corner of gastronomic specialties
Taste local goodness while remaining in total privacy. Each apartment has selected fine labels, as well as exquisite South Tyrolean products and delicacies from our butcher and gastronomic shop.
We are happy to assist you with your very personal offer, questions, requests and information. By phone or via email.